Returning to Hong Kong from London for a year now, I spent most of 2020 buried with work and online classes. With what seemed like never-ending projects and commissions coming my way all at once, I barely had any time to explore the city, only squeezing in one to two days per week to catch up with friends. As COVID restrictions in Hong Kong began to ease, summer came along, and I felt like I could finally catch a break. I was keen on revisiting parts of Hong Kong I may have almost forgotten about, and my boyfriend Sean decided to tag along so we could see the city together in a new light. 
After raining all week, Sunday rolled around, and the weather was no different. We had planned on taking a short trip to Sai Kung, but figured it wasn't the best idea to visit the countryside on a possibly rainy day. With an overloaded schedule all the time, I was beyond exhausted from a week of tedious, repetitive work. In hopes of lazily lounging through the last day of a tiring week while still getting the tourist experience, we settled on revisiting one of Hong Kong's most vibrant neighborhoods: Sham Shui Po.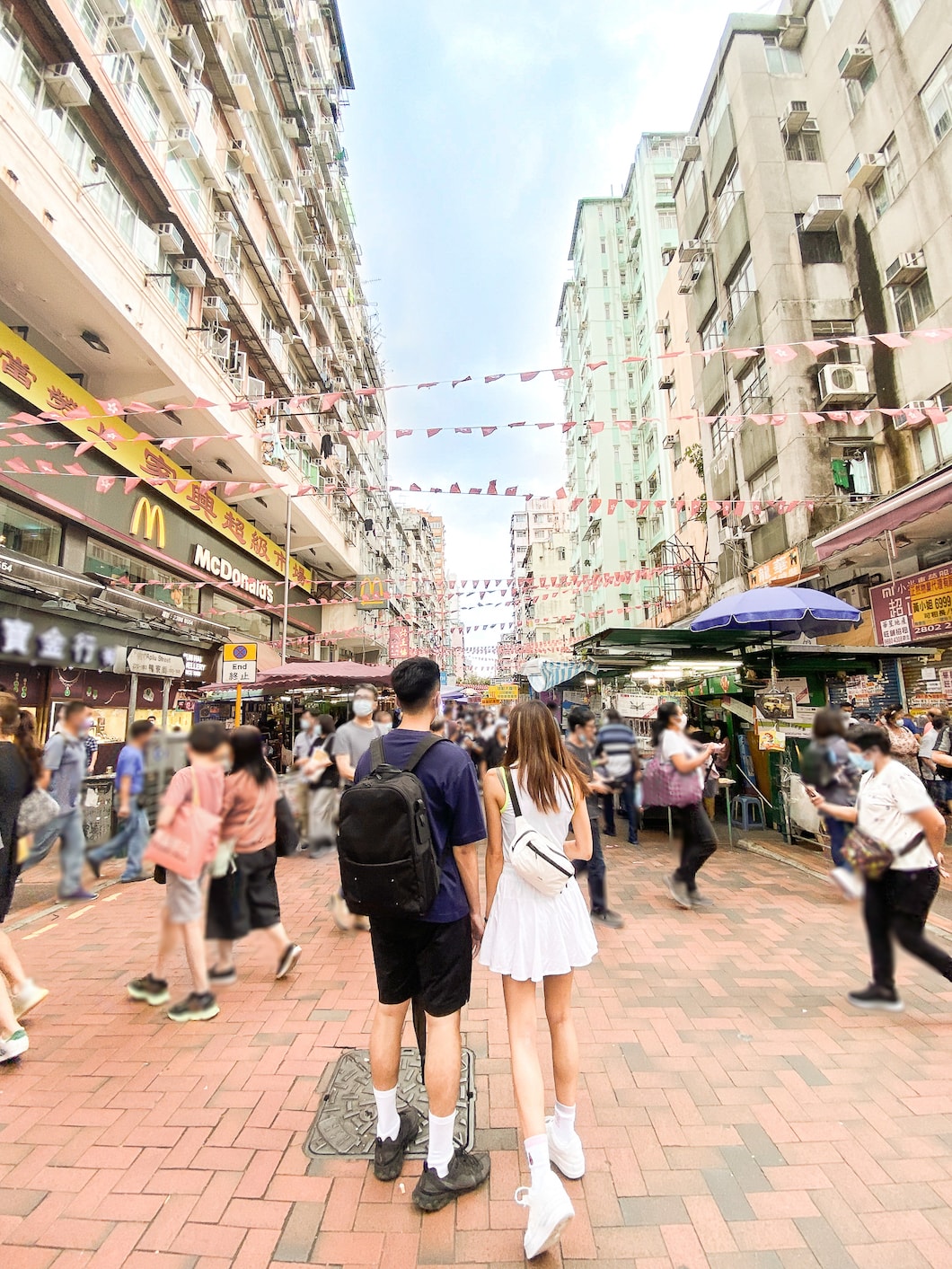 The Heart of Hong Kong's Textile Industry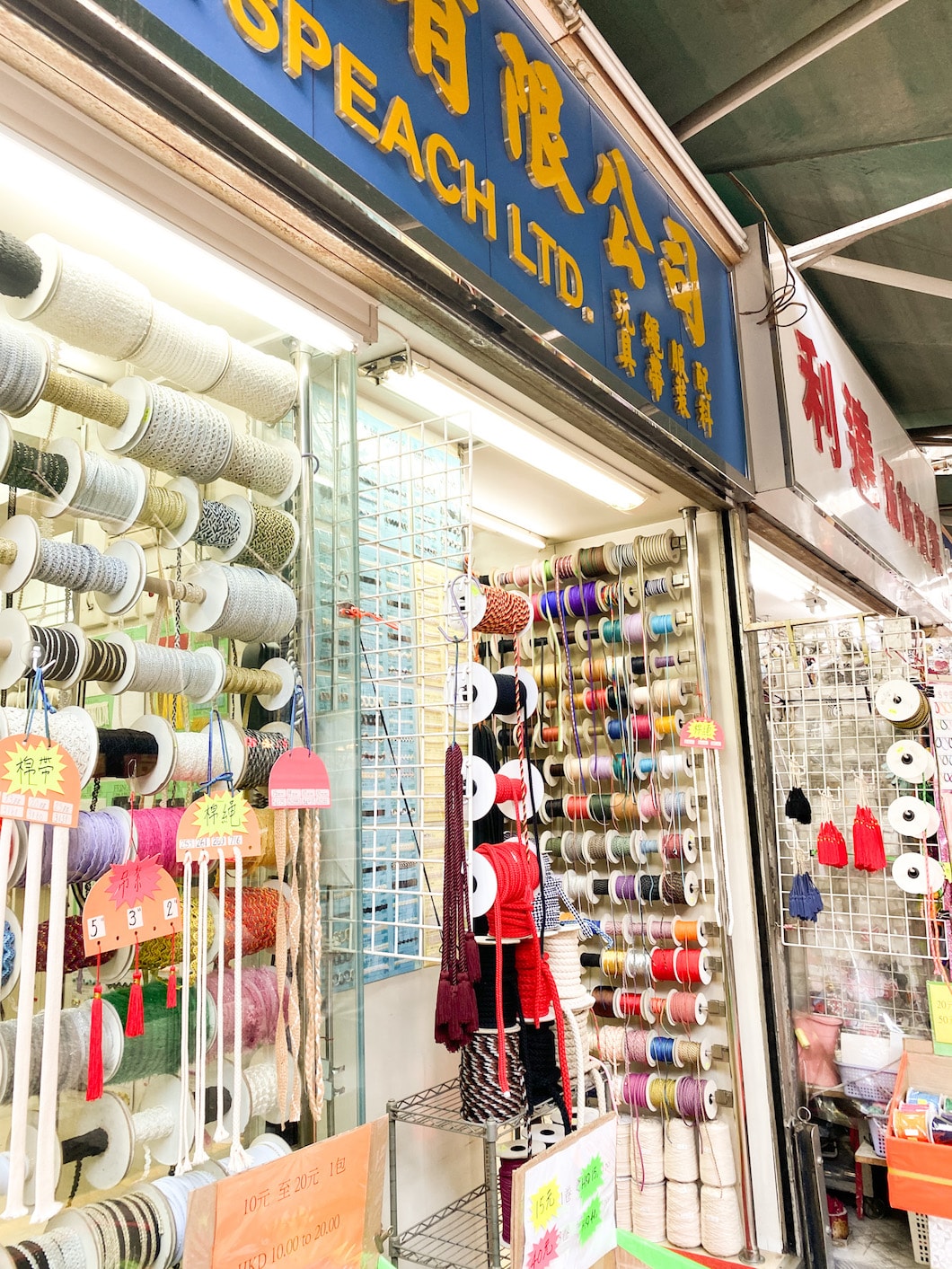 Despite being the poorest district in town, Sham Shui Po has always been the heart of Hong Kong's textile manufacturing industry. Growing up in a crafty, fashion-oriented household, I frequented SSP (short for Sham Shui Po by locals) with my mother when I was a child. We'd visit Nam Cheong Street and Yu Chau Street, also known as Ribbon Street and Bead Street, for their variety of affordable crafty materials, perfect for do-it-yourself projects at home. Ever since studying abroad, I rarely visited again, not only because of its overly crowded streets, but I also never found a reason to go anymore.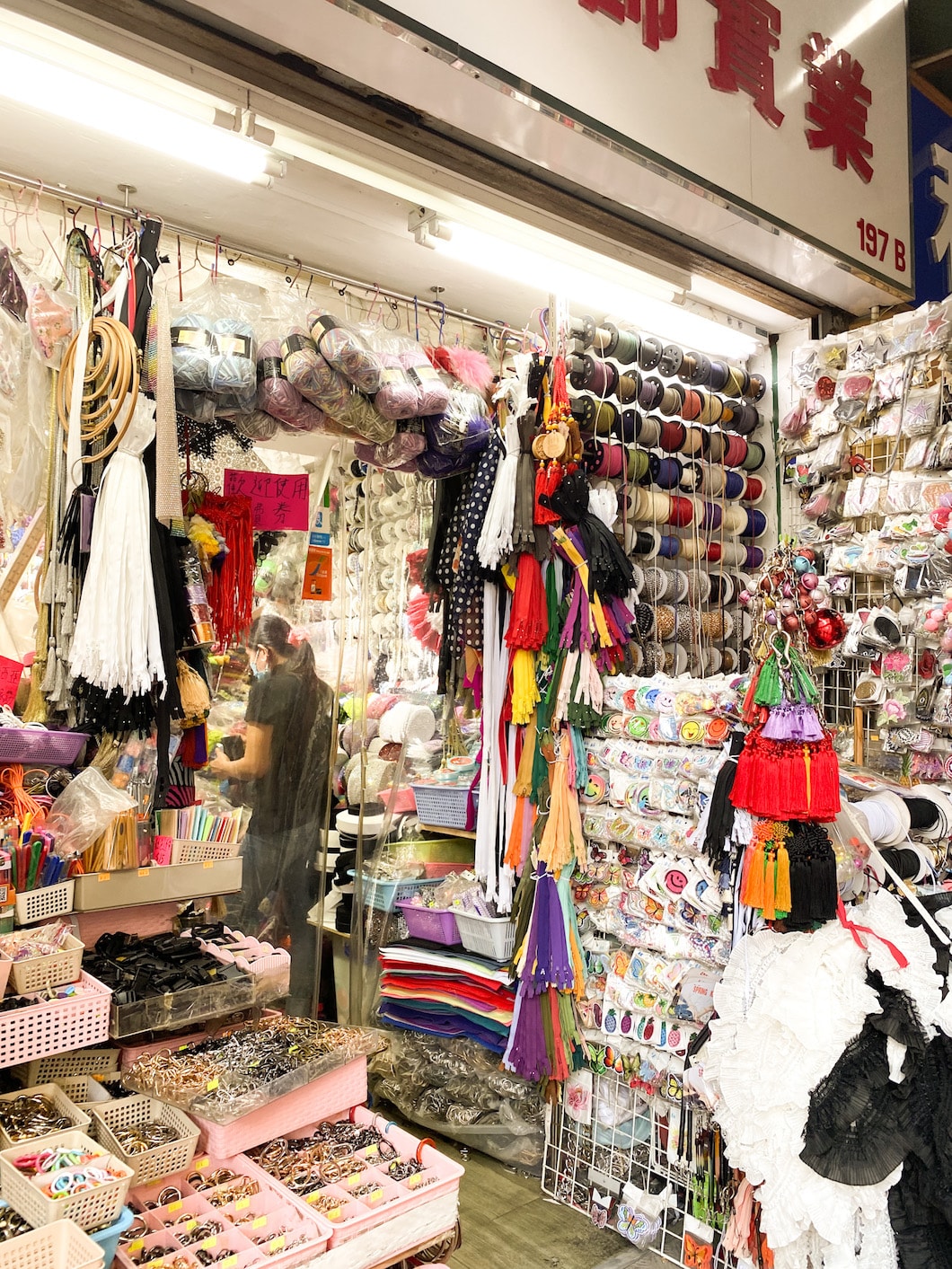 It was my first time going to SSP without a purpose in a while, so I was beyond excited to see just how much the area has changed. Over the past few years, SSP has transformed itself into a quirky, 'hipster' place for artists, coffee-lovers, and fashion enthusiasts alike. As an area bursting with life, it has become an eclectic mix of old and new — keeping the streets lined with Hong Kong's historic 'tong laus' while shops on the bottom regenerated into minimalistic cafes.
Hopping on the Croffle Craze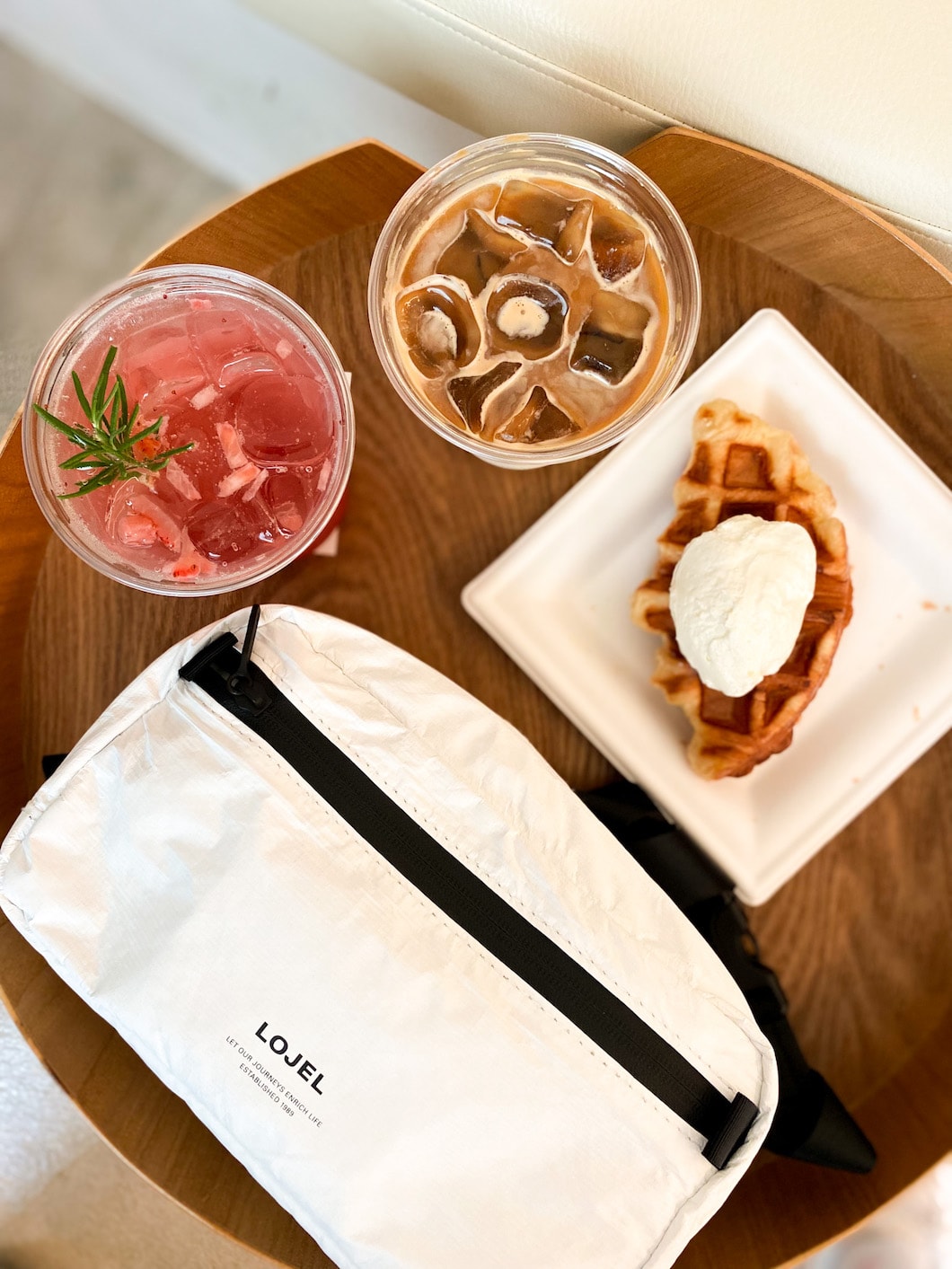 Starting off our journey with empty stomachs, we decided to stop by Milk Bar, a cafe located in Ap Liu street rising in popularity lately for its minimalistic interiors and trendy croffles (a cross between a croissant and a waffle). Catching onto the recent croffle craze, Milk Bar offers a variety of croffle flavors. As for ourselves, we chose their signature Cream Butter Croffle and the Ham and Cheese Croffle, paired with strawberry ade and a classic latte.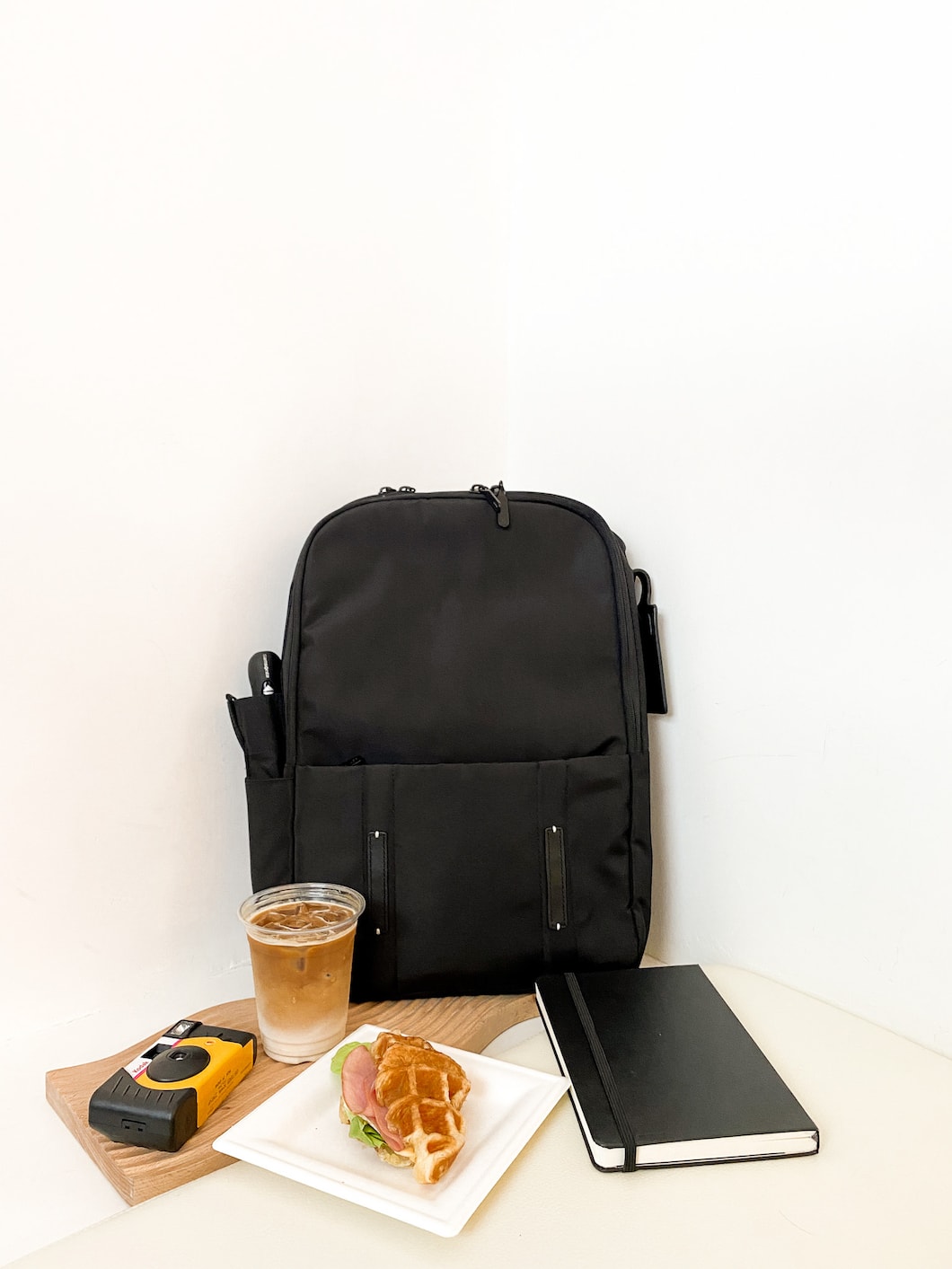 Aside from trendy cafe foods, Milk Bar also offers extremely Instagrammable spots both in and outside of the shop — every customer there was either enjoying a bite of their hot-and-freshly-pressed croffle or posing for a photo. As first-time visitors, we couldn't help but snap a few pictures as well. While we weren't keen on taking selfies in the cafe, the food itself was surely aesthetically made for the 'gram. Their minimal interior came with limited seating, so it's not a place for the bulkily dressed. I was glad I opted for a small shoulder pack, just enough to fit all my essentials while conveniently being waterproof for the unpredictable weather. As for Sean, he went for the Citybag backpack, with storage large enough to store his journal, laptop, camera, and umbrella, all while keeping it lightweight for zipping through the busy streets of SSP. 
A Bridge Between Old and New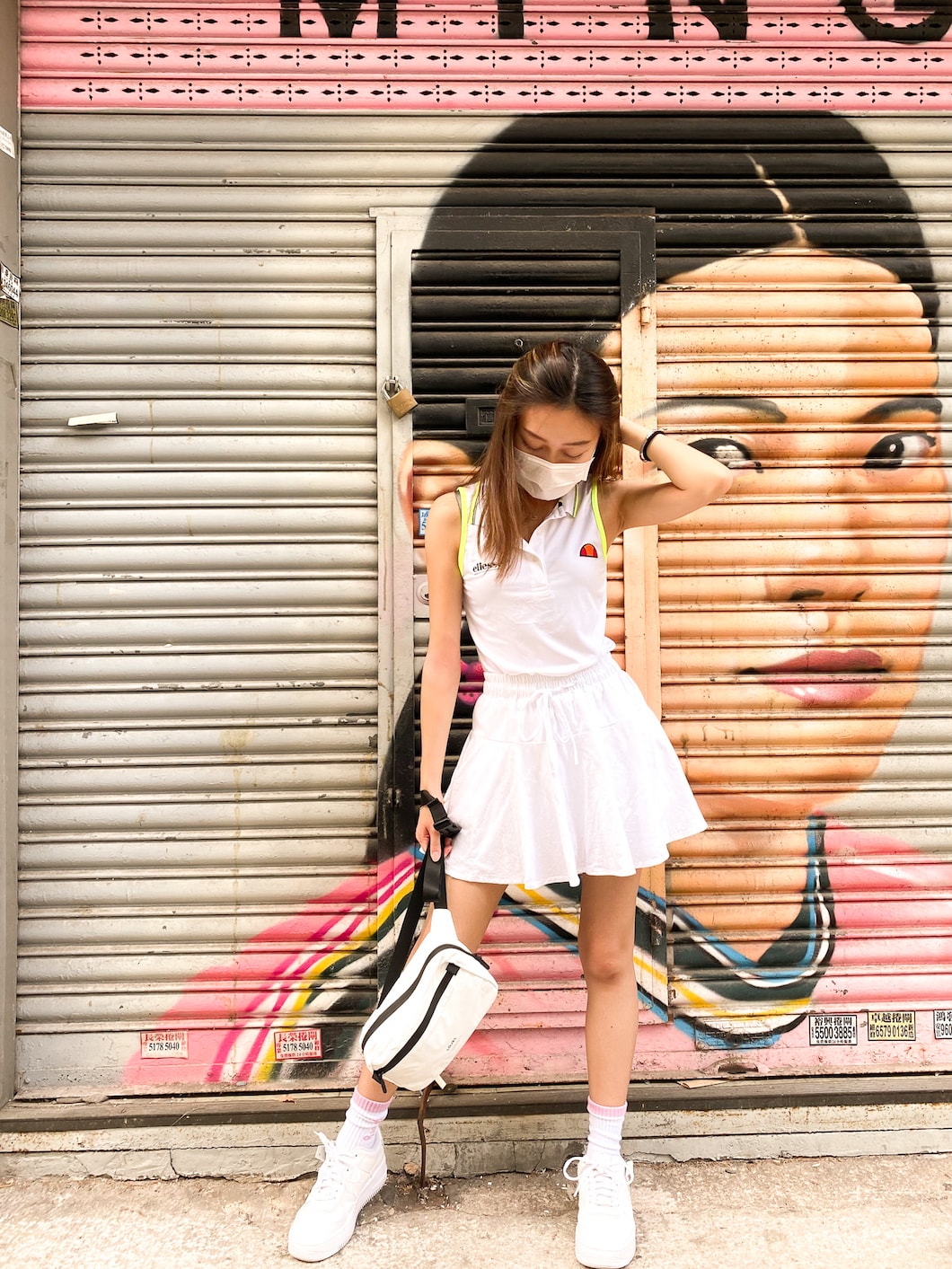 After a very satisfying croffle meal, we turned into Ki Lung Street and came across an antique store. Middle-aged carpenters were sanding wooden chairs, bonding over their love for antiques, and spending their Sunday doing what they love. Having just arrived from a modern cafe, the antique store stacked with miscellaneous wooden goods was the perfect contrast between old and new. From vintage treasures filled with memories to trendy minimalistic cafes, SSP is a bridge between the two, connecting one generation to another.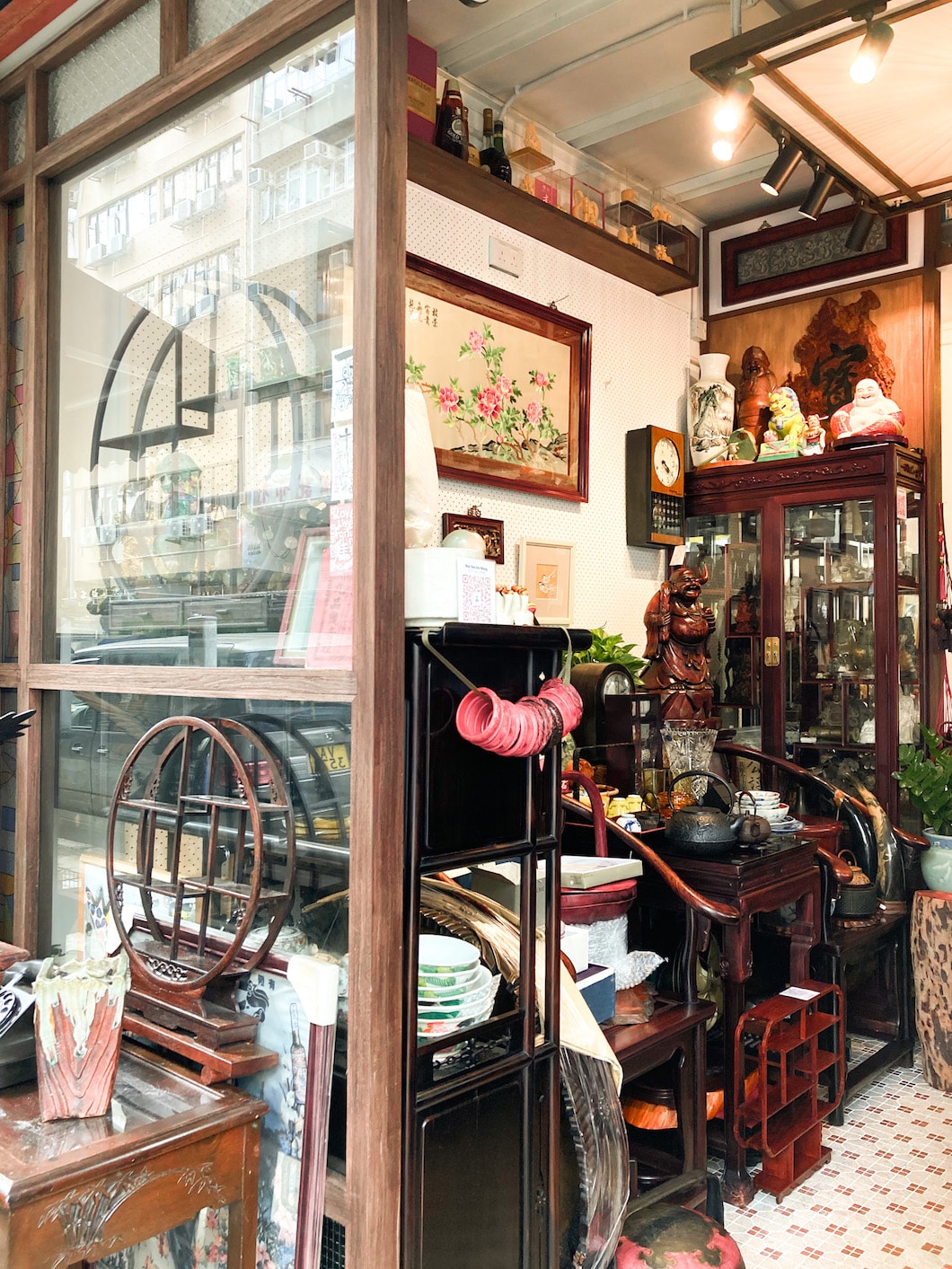 As we hopped from street to street, we noticed almost every traditional fabric stall or bead shop was decorated by talented graffiti artists. Vibrant works of art splattered across rusted metal gates, but the old shopkeepers didn't seem to mind. The revamp gave old, historic stores in SSP a burst of youthfulness. For when the shops are closed and the metal gates are down, the streets of Sham Shui Po transform into an exhibit of the most creative graffiti artworks.
Exploring the Ap Liu Street Flea Market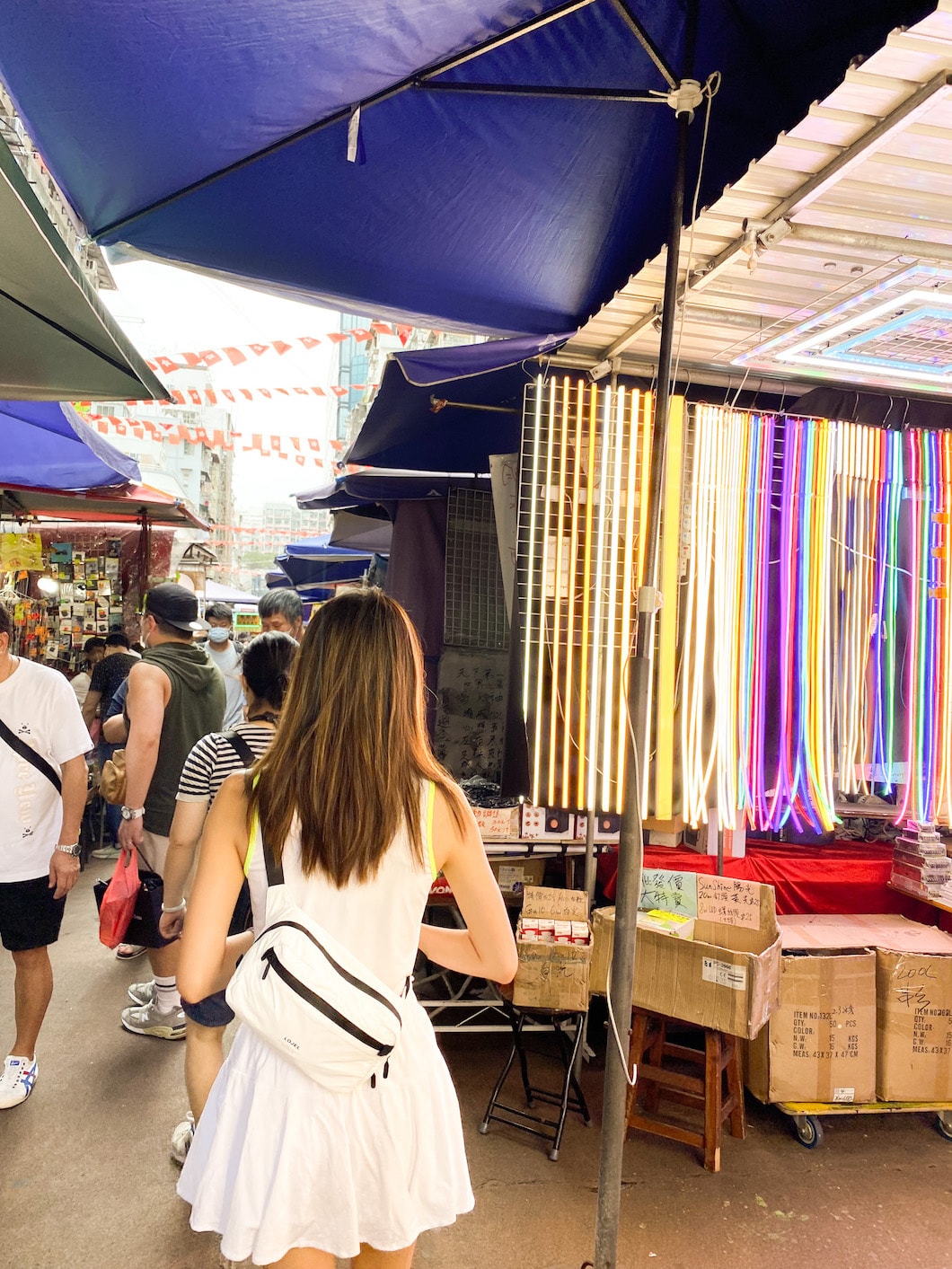 When at SSP, visiting the Ap Liu Street Flea Market is a must. The district is known to be a hub of cheap finds, filled with innovative gadgets and tools you never knew you needed. The flea market is almost always crowded, with visitors constantly greeted by overly enthusiastic hawkers. From tech accessories to vintage toys, you'll surely find at least one thing that catches your eye, and usually for a very good price.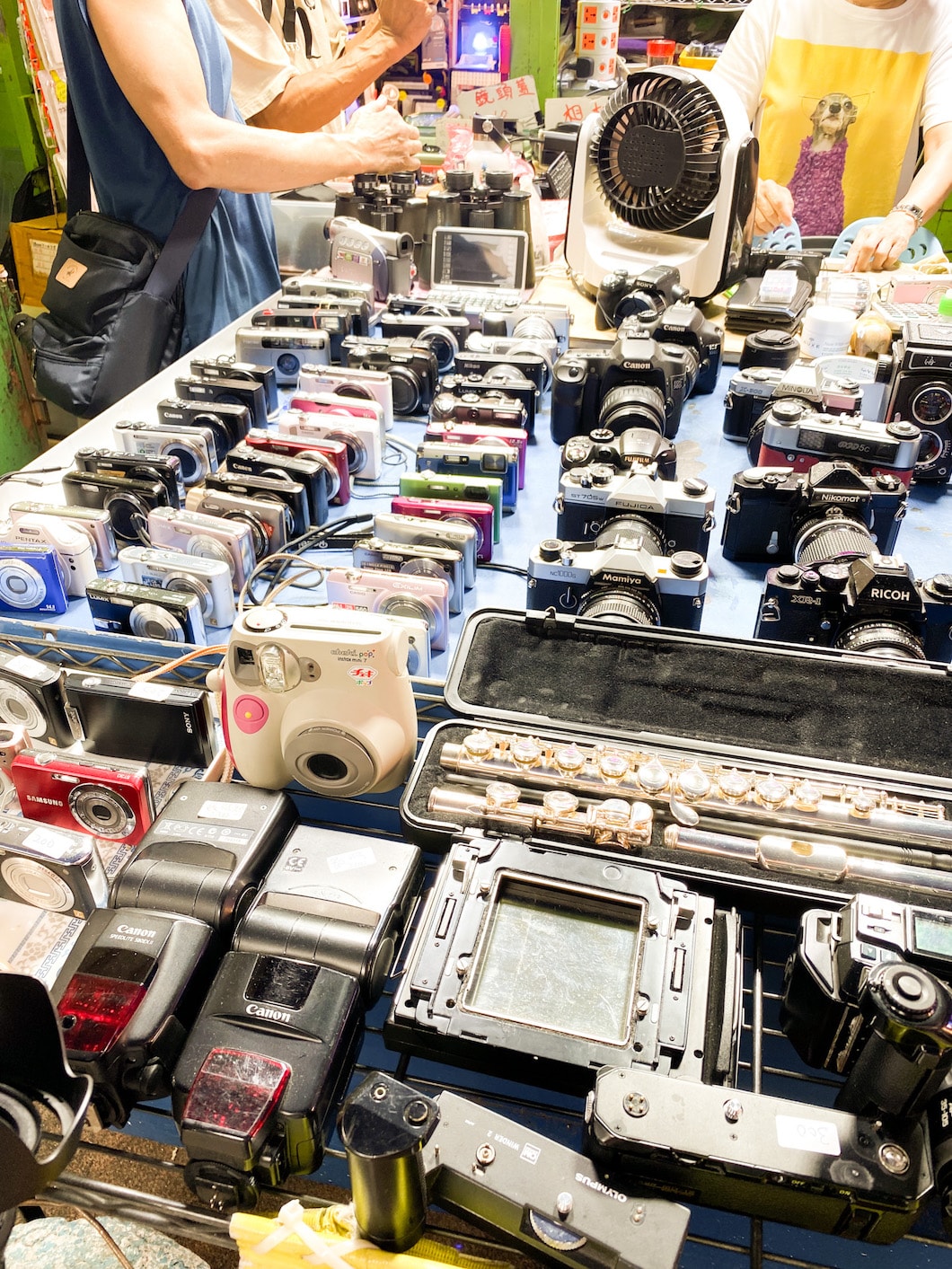 We ended our trip with one last treat, this time a traditional stone mill-made steamed rice roll. Sean has always wanted to try this specific store since they seem to be well known for their craft. The batter was freshly made by a stone mill then steamed to order, with an array of fillings to choose from. Costing only $20 HKD ($2.5 USD) per box, we ordered two to replenish after a long but relaxing day.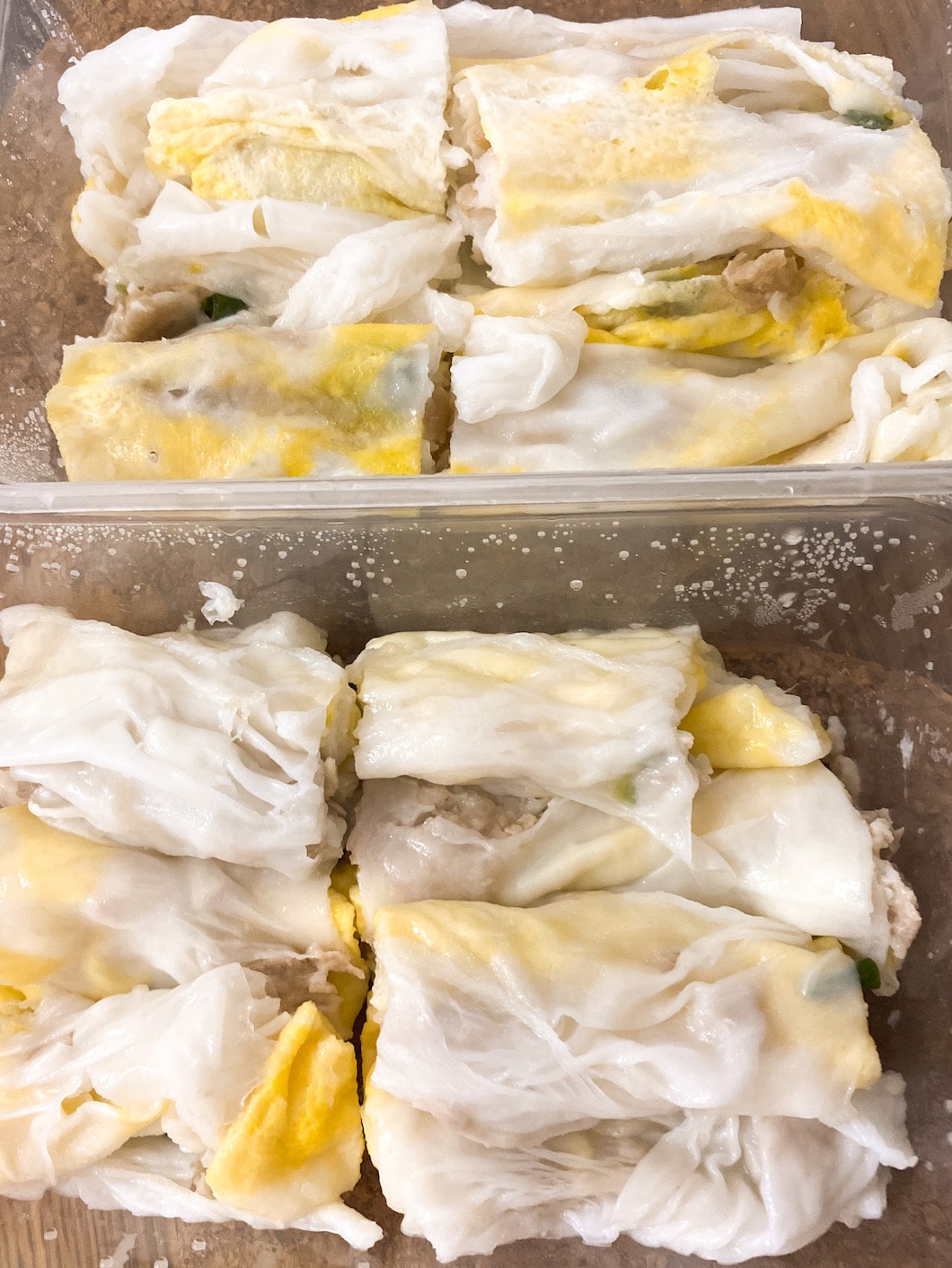 Although I wouldn't call myself a tourist here, it's always fun to revisit old places in Hong Kong and learn about the city through new perspectives. Exploring the streets of Sham Shui Po has made me realize how foreign I am to the rapid growth of the city, and I can't wait to discover Hong Kong like a tourist would, again.
–
by Claudia Chu