Take a journey with books and films for every mood.
With travel plans postponed for the foreseeable future, many of us are spending an unprecedented amount of time at home. You may find yourself, in these uncertain times, becoming intimately familiar with the patterns in your rug and fantasizing in detail about the last time you ate in a restaurant.
If all of this confinement is giving you cabin fever, we've got an idea for an escape hatch. A book, series or film has always been a window to another place and time, and now more than ever, great narratives can transport you somewhere exciting— at least for a few hours.
Whether you're up for a rugged adventure or a European holiday, we've rounded up some vivid and absorbing options for every kind of vicarious holiday.
For uncharted exploration: It's a universal truth that everyone, as a child, dreamed about adventuring into the jungle to live with the animals. But Jane Goodall really did it, as a young woman with no special training or education, just reverence and curiosity about the lives of chimpanzees. Jane is an incredible documentary that captures the magic of a true, wild adventure, shot with such intimacy that you'll feel as though you're watching from under a jungle canopy.
For European fantasy: There is no director who captures the sensuous heat of a European summer like Luca Guadagnino. If you're longing for cold white wine al fresco, turquoise-blue swimming along sun-bleached beaches, watch Call Me By Your Name (for romance) or A Bigger Splash (for sinister decadence).
For a globetrotting comedy: Not all trips go according to plan, but sometimes even mishaps are magical. Andrew Sean Greer's Pulitzer Prize-winning novel, Less, follows an author on his ill-fated itinerary from Paris to Berlin, Morocco to India. It's hilarious, tender, rich in detail, and resonant for everyone who has ever felt awkward and out of place while abroad.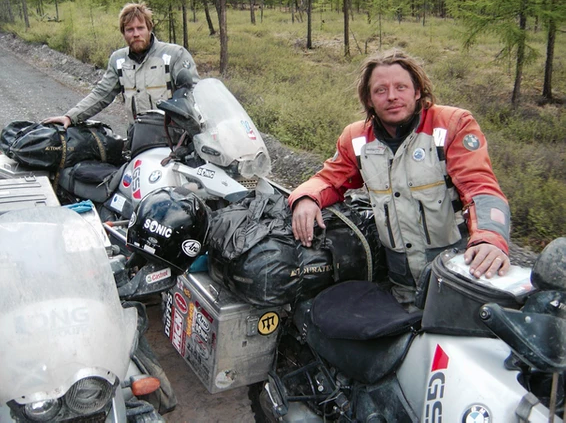 For a rugged escapade: Take a marathon road trip on the back of a motorcycle with The Long Way Round, a 20,000-mile journey from the UK to Mongolia, across the Pacific to Alaska, then all the way to New York City. Created by Ewan McGregor and Charley Boorman with the pure aim of documenting an adventure, the series meanders down long, winding roads and tracks across craggy landscapes. It's almost meditative. And if you're hungry for more at the end, there are sequels.
For adventurous palates: Travel shows are often uncomfortably voyeuristic, treating people as curiosities or simplistic caricatures. But Anthony Bourdain changed the game with his epic culinary series Parts Unknown, approaching local cuisines and the people who make them with real reverence and openness. Each episode revels in the conversations that happen over shared meals, and the surprises that make a trip truly memorable.
For unexpected revelations: Geoff Dyer's White Sands is a unique, lightly-fictionalized memoir of his journeys around the world, from balmy Tahiti to the freezing winter fringes of Norway. If you've ever taken a trip that failed to live up to your high expectations, Dyer is your guy. By capturing the lows as well as the highs, he makes a compelling argument for why we love to travel: those little moments of wonder and surprise that make a journey truly memorable.
For time travelers: Countless books have been written about Paris, but no outsider has captured it better than Ernest Hemingway in A Moveable Feast, about his years as a journalist in the 1920s. Hang out with Gertrude Stein and F. Scott Fitzgerald, browse the books at Shakespeare and Co, and enjoy the kind of genteel poverty that still permits ski holidays in Austria and a diet of oysters and white wine.
Bon voyage!