As the world becomes vaccinated, we need to be prepared for another shift in our lifestyles. For those of us who were able to work from home, this time tested our ability to balance work and life all contained in the same space. That led to some creative routines, interesting workspace set-ups, a more profound sense of awareness about our priorities, and so much more.
How we achieved a sense of balance wasn't easy. The little things do matter. As we think ahead to more changes, such as going back into an office building or deciding to make our home offices permanent — what are those little things that anchored us to a sense of well-being and productivity?
Having Boundaries
Working from home quickly allowed the demands of our professional lives to seep into our downtime. With our laptops and phones by our sides and what felt like a lot of idle time, as our personal lives came to a halt, suddenly work seemed like a good filler. After a prolonged period of this kind of arrangement, exhaustion set in. Soon, it became clear that although our desk might be next to the bed, a line needed to exist to have some balance.
"I had trouble knowing when to start or stop work," says Beth Royce, who works full-time in a communications role from her home in Los Angeles.
"My routine used to involve a commute, which naturally provided a very clear distinction between work and home. As soon as I set up my workspace in my kitchen, that distinction evaporated."
It took a few months, Beth explains, before she created a new routine which actually she prefers to her previous commute.
"Now that I've figured out how to work from home and protect time for myself, which was as simple as turning off my devices while I did my cooking or went out for a run, I felt a huge relief."
"That time I used to spend in the car driving to work, now I use it for self-care, and at the end of the day, I set my alarm to ensure my time doesn't bleed into my evenings, which is when I get out of the house and exercise."
Routines Save the Day
Achieving work-life balance also seems to hinge on the kinds of routines we designed to counteract the anxiety of an endlessly unpredictable situation.
Nathan Goethe, a web developer who used to work in a large office in downtown Seattle, swears by the routine he created to feel more in control.
"I never used to pay attention to a routine, to be honest," says Nathan. "I really like spontaneous things, but once I switched to working from home, I noticed that I was scattered and having such a hard time not feeling exhausted!"
"I created a breakfast routine, which might seem stupid, but that helped me to feel like I could face the day. I got really into coffee, and suddenly the ritual of grinding fresh beans, pouring my cup gave me such a sense of calm. If I have to go back to the office, I don't want to lose this ritual."
Creating Space
How did people create a healthy separation between where they work and where they live? A dedicated work "zone" with art, candles, or materials seemed essential for many people looking to carve out a little spot to create focus.
"All I knew once I started working from home was that I needed my desk to be by a window," explains Shelly Elm, a designer based in Portland. "I had a vision where my workspace needed a plant, and I could look outside and soak in the natural light."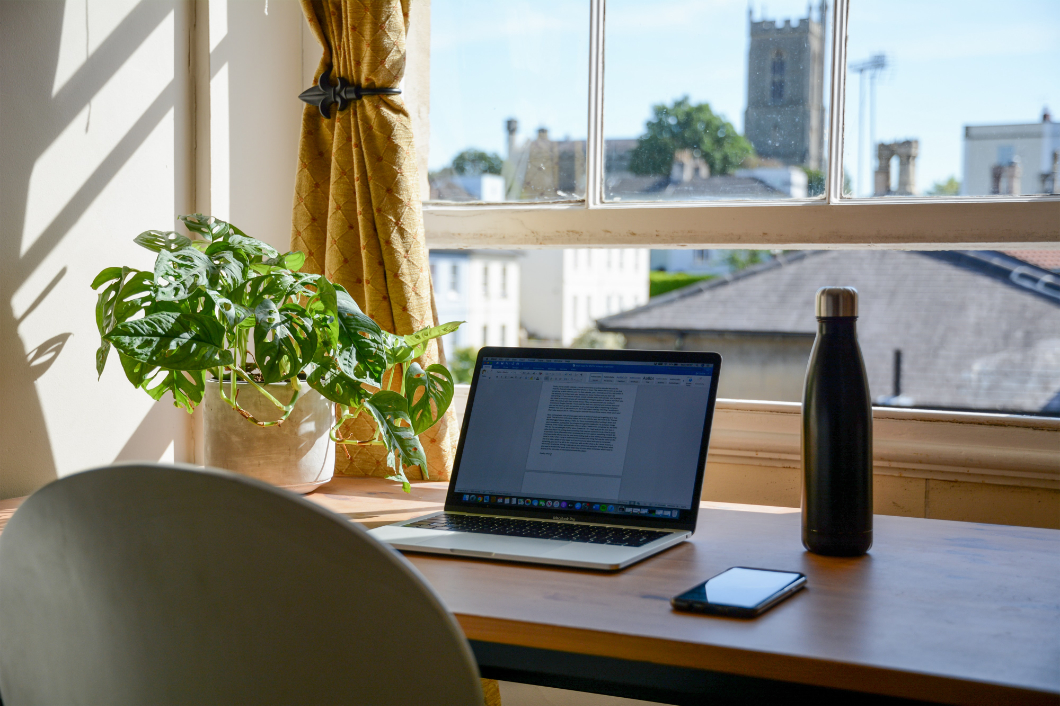 For Shelly, that meant having to rearrange the furniture in her small studio apartment.
"Once I had the vision for my workspace, I moved everything in my apartment around to set myself up for success," she says. "Once I was able to do that, the simple act of having my back to the rest of my apartment and looking out the window helped me feel like I was in a focused zone. I added some plants, cool art and even started putting on soothing music each day during work hours to enhance my focus."
Taking Time Away
A little more challenging to do when restrictions are constantly being implemented and removed — but taking time away from home has been essential for many to deal with a new work/live reality.
"I'm a single person but was determined to take myself out on dates," says Luis Trome. "I need to stimulate my brain with things outside of my work. I start to feel uninspired."
Luis, who does interior design for clients in San Diego, started making a list of outdoor places he'd never visited before the pandemic. Spots in San Diego that have historical significance too.
"I've lived here for years and didn't really know my own city very well. Once I decided to challenge myself a bit, I was so excited to discover all the hidden gems in my own backyard. I always have something fun to share with friends when we connect online."
Relocate
Not an option available to everyone, but some people decided that once they were asked to work from home, now was the time to temporarily relocate to a place they'd been thinking about travelling or moving to.
Janessa Ng decided after her first week of working from home that now might be a good time to try living outside the city.
"I am a freelancer who relied a lot on co-working spaces for community," explains Janessa, who was based in San Francisco.
"But I felt that the energy in the city wasn't feeling healthy for me and the co-working space closed. So I hunted around online for small towns a few hours away that I could rent short-term accommodations. I ended up finding a condo along the coast that let me live next to the ocean while also having access to some amazing state parks. I am seriously considering moving out of the city permanently now."